Jeff Noon is a British novelist, short story writer and playwright.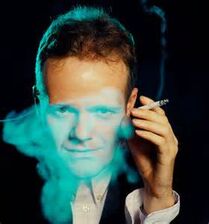 Born in 1957 Droylsden, Manchester, The UK. Currently lives in Brighton.
His works include:
Woundings (1986) [stage play]
Vurt (1993)
Pollen (1995)
Automated Alice (1996)
Nymphomation (1997)
Pixel Juice (1998)
Needle in the Groove (2000)
Somewhere The Shadow (2001) [stage play]
Cobralingus (2001)
Falling out of Cars (2002)
Dead Code - Ghosts of the Digital Age (2005) [radio play]
217 Babel Street (2008)
Channel SK1N (2012)
The Modernists (2013)
Ad blocker interference detected!
Wikia is a free-to-use site that makes money from advertising. We have a modified experience for viewers using ad blockers

Wikia is not accessible if you've made further modifications. Remove the custom ad blocker rule(s) and the page will load as expected.